Ruth Arts Mary L. Nohl Alumni Awardees
TYANNA J. BUIE
Nohl 2012 (Emerging)


A native of Chicago and Milwaukee, Tyanna J. Buie has exhibited her work in numerous juried, group, and solo exhibitions throughout the country. She has participated in residencies at the Joan Mitchell Center in New Orleans, the Women's Studio Workshop in Rosendale, NY, and the Vermont Studio Center in Johnson, VT. In addition to her Nohl Fellowship, Buie has received the Love of Humanity Award from the Greater Milwaukee Foundation (2015), the prestigious Joan Mitchell Painters & Sculptors Grant (2015), the Kresge Artist Fellowship in the Visual Arts (2019), the 2019/2020 Grant Wood Fellowship in Printmaking at the University of Iowa in Iowa City, and a Fellowship.art award (2020). Her work has been acquired by major institutions and private collections nationally. Buie has been an associate professor/section lead of printmaking at the College for Creative Studies in Detroit since 2015 and this fall she takes up a new position as Associate Professor at the Rhode Island School of Design. In addition to her artist and teaching practice, Buie has maintained a connection to the community by hosting printmaking workshops and demonstrations, and by participating in the Healthy Neighborhood Initiatives through the production of public art in underserved neighborhoods and communities in Milwaukee, and Madison.
"The Nohl Fellowship gave me the resources and confidence to expand my work conceptually, while experimenting with multi-media techniques and processes. This set the foundation for my current and future creative practice. My art practice thrives on the intersectionality of maintaining my studio practice, teaching, mentoring, and my commitment to community engagement. I see myself contributing to the co-creation of the Nohl Fellows alumni network program by providing a space for each Nohl recipient to be seen and heard through learning about their specific needs and goals first, then using my own connections, skills, resources, and expertise to aid in the contribution of a lifetime of knowledge for the artists."
https://tyannajbuie.com/home.html
COLIN MATTHES
Nohl 2007 (Emerging), 2012 (Established)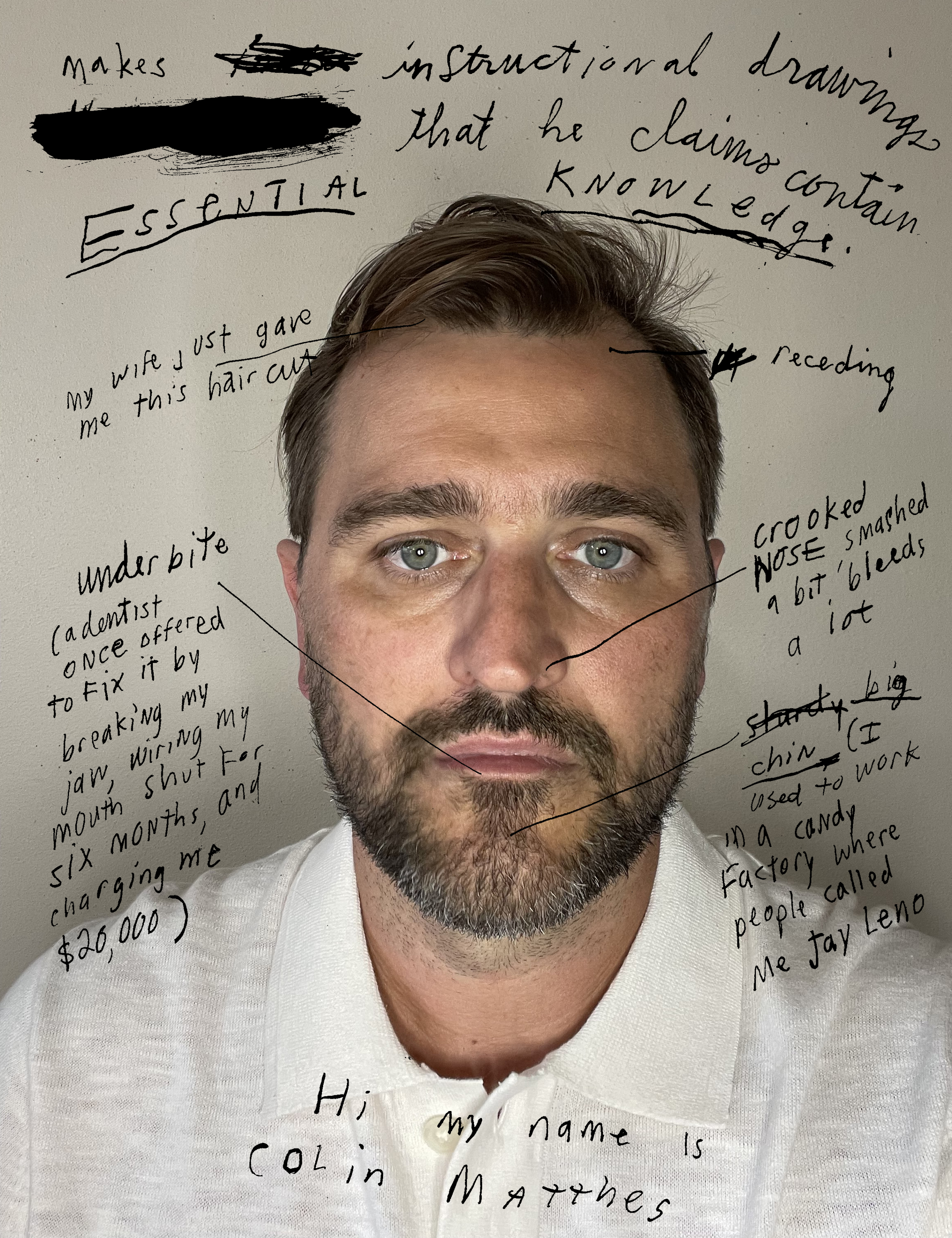 Colin Matthes makes drawings--Essential Knowledge instructional drawings. They teach skills for success in challenging situations. These drawings have a place in popular culture and the art world. As a father with two young kids, a husband, and a full-time job, Matthes has continued to build his career. He keeps expenses low, his focus specific, and he trusts himself out of necessity. To support his practice, he does a lot with a little. His drawing process is an extension of living. It is a tool for slowing down, thinking, figuring things out, and sharing with others. Matthes draws to learn new information, understand his weaknesses, and grow as a person. "I have abandoned indecision and self-consciousness," observes Matthes. "I am more free than ever."
"I will work with other Ruth Art fellows to create an evolving group of opportunities and connections that can grow with the accumulated Ruth Arts cohort. When thinking about what the larger alumni program can be, it is essential to work as a group and not enter with a specific agenda."
https://colinmatthes.com/
CRIS SIQUEIRA
Nohl 2013 (Emerging)


Cris Siqueira is a Brazilian transplant living in Milwaukee since 2004. She has been making art for twenty-five years and recently moved from film to illustration, rekindling a lifelong ambition to make "comics as art," a concept she has championed for decades as a journalist, translator and, more recently, co-owner of the bookstore and art space Lion's Tooth in the Bay View neighborhood of Milwaukee. Siqueira is currently working on her first graphic novel, an absurdist satire of present-day America that explores issues of belonging, cultural appropriation, and colonialism. May You Get What You Want is inspired by her experiences as an immigrant and her personal involvement with the circus. She is also the vocalist in the Milwaukee band Spidora, named after a sideshow attraction.
"I'm very excited about the possibilities of this new program. Covid relief during the pandemic has shown that even small gestures and amounts go a long way toward improving one's ability to make art, even if not everybody was in the headspace to create work then. This is an amazing opportunity to cultivate a supportive and intergenerational community, greatly amplifying the impact of the Nohl Fellowship on our individual careers."
https://crissiqueira.myportfolio.com/
SONJA THOMSEN
Nohl 2011 (Established)


Sonja Thomsen is an American installation artist activating light in image, object, and architecture to choreograph space for wonder. Video, sculpture, and photography are key components of a world within which she constructs networks of women across time to negotiate care, grief, and co-authorship today. Thomsen's artist book, You will find it where it is: a reader, was published by Poor Farm Press in 2020. She has exhibited with Bauhaus Archiv Berlin; The Suburban Milwaukee; Soccer Club Club, Chicago; Higher Pictures, NY; DePaul Art Museum; Center for Photography at Woodstock; the Reykjavik Museum of Photography; New Mexico Museum of Art; Madison Museum of Contemporary Art; Gallery f5,6 in Munich; and Fonderia 20.9 in Verona, Italy, among others. Her most recent installation, Orbiting Lucia (2022-2023), was a part of the exhibition Refracting Histories at the Museum of Contemporary Photography in Chicago. She is currently Associate Professor Adjunct in Photography Department at the School of the Art Institute of Chicago. She lives in Milwaukee.
Thomsen has a long history with collaborative practices, building/platforming artist communities regionally and internationally. "I look forward to being a part of a cohort that understands generosity and advocacy, planting seeds for career sustaining opportunities for myself and other fellows."
https://sonjathomsen.com/