Mary L. Nohl Fund Fellowships for Individual Artists
Five Artists Recognized in Sixteenth Cycle
Five recipients of the Greater Milwaukee Foundation's Mary L. Nohl Fund Fellowships for Individual Artists have been selected from a field of 177 applicants in the sixteenth annual competition. Chris Cornelius and Keith Nelson were chosen in the Established Artist category and will each receive a $20,000 fellowship. Nazlı Dinçel, Makeal Flammini, and Rosemary Ollison will receive Emerging Artist fellowships of $10,000 each. In addition to receiving an award, the Nohl Fellows participate in an exhibition at the Haggerty Museum of Art that opens at the end of May 2019. An exhibition catalogue will be published and disseminated nationally.
Finalists in the Established Artist category included Portia Cobb, Thomas Hellstrom, Shane McAdams, Kevin J. Miyazaki, and Nirmal Raja.
Finalists in the Emerging artist category included Siara Berry, Molly Hassler, Thaddeus Kellstadt, Courtney Parbs, Open Kitchen (Rudy Medina + Alyx Christensen), Daniel McCullough, and Pete Railand.
Headshots, images of the artists' work, and image credits available at:
https://www.dropbox.com/sh/0oqx43wew162hb6/AACAqKnUFmD2KZYQgCyCydDCa
Funded by the Greater Milwaukee Foundation's Mary L. Nohl Fund and administered by the Bradley Family Foundation, the Mary L. Nohl Fund Fellowships for Individual Artists provide unrestricted funds for artists to create new work or complete work in progress. The program is open to practicing artists residing in the four-county area (Milwaukee, Waukesha, Ozaukee, and Washington counties). The Mary L. Nohl Fund also supports a Suitcase Fund for exporting work by local artists beyond the four-county area.
Artist Mary L. Nohl of Fox Point, Wisconsin, died in December 2001 at the age of 87. She left a $9.6 million bequest to the Greater Milwaukee Foundation. Her fund supports local visual arts and education programs, keeping her passion for the visual arts alive in the community.
The panel of jurors included Lucy Mensah, an independent curator and visiting assistant professor of Museum and Exhibition Studies at the University of Illinois in Chicago's School of Art & Art History; Risa Puleo, an independent curator; and Ashley Stull Meyers, co-curator of the 2019 Portland (OR) Biennial. The panelists were in Milwaukee November 8-10, reviewing work samples and artists' statements and visiting the studios of the seven finalists in the Established Artist category. Ashley Stull Meyers extended her stay and offered additional studio visits with current and former Nohl Fellows. She also met with students at the Milwaukee Institute of Art & Design.
About the Fellows
Established Artists
CHRIS CORNELIUS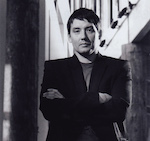 Chris Cornelius, a citizen of the Oneida Nation of Wisconsin, focuses his work on rendering visible indigenous culture and provoking a cultural consciousness that resonates across multiple audiences. He is the founding principal of studio:indigenous, a design and consulting practice serving indigenous clients. Cornelius received a Master of Architecture from The University of Virginia and is currently an associate professor of Architecture at the University of Wisconsin-Milwaukee. He was a cultural consultant and design collaborator with Antoine Predock on the Indian Community School of Milwaukee (ICS). Cornelius is the recipient of numerous awards and honors, including the inaugural J. Irwin and Xenia S. Miller Prize; an Artist in Residence Fellowship from the National Museum of the American Indian, Smithsonian Institution; and multiple wins in the Ken Roberts Architectural Delineation Competition (KRob). Cornelius's work has been exhibited widely and is on view in the 2018 Venice Architecture Biennale. He recently completed an installation as an artist in residence at Bookworm Gardens in Sheboygan, Wisconsin that brings awareness to indigenous storytelling and the role of the Trickster.
https://www.studioindigenous.com/
KEITH NELSON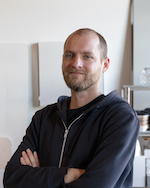 Keith Nelson (b. Racine, WI 1976) is a painter/sculptor/arts organizer living and working in Milwaukee. He received his BFA in 2000 from the Milwaukee Institute of Art & Design, majoring in painting. The current medium for the work is reclaimed waste with which he composes minimal, collaged sculptures. His work challenges the boundaries between high and low cultural materiality, while also alluding to a sarcastic critique of commodification, consumerism and modernism. In 2001 he co-founded 7th Floor Studios, a collective working space now comprised of three floors and 30 studios, and in 2014 he began Usable Space, an artist curated gallery. He recently co-purchased a commercial property on Milwaukee's Historic Mitchell St. where he and his partner have opened five artist studios, a work/live apartment, and a new exhibition space, Real Tinsel. Nelson's work has been exhibited recently at The Franklin (Chicago), ZeiherSmith (NYC), the Museum of Wisconsin Art (West Bend) and FLUC (Vienna, Austria). He is currently represented by The Alice Wilds in Milwaukee.
http://www.keithcnelson.com/
Emerging Artists
NAZLI DINÇEL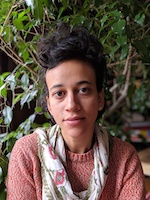 Nazlı Dinçel (Turkey/USA) is a first-generation immigrant born in Ankara, Turkey. Her hand-made work reflects on experiences of disruption, and also considers representations of the body and female sexuality. Her use of text as image, language, and sound imitates the failure of memory and her own displacement within a western society, and her work on the body is echoed in an approach to filmmaking that enables her to touch and manipulate the film strip between her fingers. Dinçel studied at the University of Wisconsin-Milwaukee, receiving an MFA in 2015. She has made more than twelve films since 2009 and has had screenings and exhibitions at MoMI (NY), IFF Rotterdam, BAFICI (Buenos Aires), Hong Kong International Film Festival, and more. She is the recipient of the Helen Hill Award from the Orphan Film Symposium and AAFF's Eileen Maitland Award (2018). Dinçel is currently building an artist-run film laboratory in Milwaukee.
http://www.nazlidincel.com/
MAKEAL FLAMMINI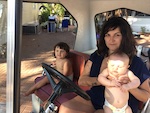 Makeal Flammini is a mom who hasn't slept in four years. In the moments she is able to steal for herself, she is a painter who dreams of being a writer. Her most recent narrative-based work explores themes of identity, motherhood, and memory.  She is the former co-host of the now defunct radio program The Wild Wild Midwest Variety Show that aired on WMSE. She recently had an exhibition, Domestic Animals, at Galerie Kenilworth. Flammini lives in Milwaukee with her husband and two small children.
http://makealcflammini.blogspot.com/
ROSEMARY OLLISON


Rosemary Ollison is an interdisciplinary artist who moved to Wisconsin from a plantation in Arkansas at age 16. Ollison began making art in 1994 as a "therapeutic discussion with Jehovah God" while healing from an abusive marriage and working at a school for disabled children. Her drawings, often done in series, are about being a Black woman in America. They also chronicle her own life story and growing confidence and awareness as she found her voice through an art practice. Ollison has transformed her apartment into an art environment, using her handmade rugs, fiber works, drawings, duct tape sculptures, beaded works, jewelry, hog bone necklaces, and clothing to create a vibrant, joyous space of self-defined beauty. Ollison creates her work as a dialogue with Jehovah, explaining: "My drawings are messages and information about myself. My present works reflect only the joy, delight, fulfillment and pleasure I experience in living." Ollison is currently making textile works out of re-purposed leather and continuing her drawing and writing. Ollison's work has been presented at the Outsider Art Fair in New York City (2017, 2018) and is in the collections of the Milwaukee Art Museum and the Chipstone Foundation. In 2019, Ollison will design a room for the new Milwaukee art hotel, The St. Kate, and she will have a solo show at the Lynden Sculpture Garden. Rosemary Ollison is represented by the Portrait Society Gallery.
https://www.portraitsocietygallery.com/rosemary-ollison
For more than a century, the Greater Milwaukee Foundation has helped individuals, families and organizations realize their philanthropic goals and make a difference in the community, during their lifetimes and for future generations. The Foundation consists of more than 1,300 individual charitable funds, each created by donors to serve the charitable causes of their choice. The Foundation also deploys both human and financial resources to address the most critical needs of the community and ensure the vitality of the region. Established in 1915, the Foundation was one of the first community foundations in the world and is now among the largest.
Past Fellows
2017
Established
Tom Berenz
Lois Bielefeld
Emerging
Sara Caron
Sky Hopina
Ariana Vaeth
2016
Established
Jesse McClean
Joseph Mougel
Emerging
Rose Curley
Robin Jebavy
Brook Thiele
2015
Established
Jon Horvath
Frankie Latina
Emerging
Ben Balcom
Zach Hill
Maggie Sasso
2014
Established
Anne Kingsbury
Shana McCaw & Brent Budsberg
John Riepenhoff
Emerging
Emily Belknap
Jenna Knapp
Erik Ljung
Kyle Seis
2013
Established
Ray Chi
Sheila Held
Special Entertainment (Andrew Swant & Bobby Ciraldo)
Emerging
Cris Siqueira
Tim Stoelting
Eddie Villanueva
Josh Weissbach
2012
Established
Danielle Beverly
Faythe Levine
Colin Matthes
Emerging
Lois Bielefeld
Tyanna J. Buie
Brad Fiore
Brad Kjelland
2011
Established
Nicholas Lampert
Brad Lichtenstein
Sonja Thomsen
Emerging
American Fantasy Classics
Richard Galling
Hans Gindlesberger
Sarah Luther
2010
Established
Brent Coughenour
Paul Druecke
Waldek Dynerman
Emerging
Sarah Buccheri
Neil Gravander
Ashley Morgan
Chris Thompson
2009
Established
Peter Barrickman
Harvey Opgenorth
Emerging
Kim Miller
John Riepenhoff
2008
Established
Brent Budsberg & Shana McCaw
Xav Leplae
Iverson White
Emerging
Tate Bunker
Bobby Ciraldo & Andrew Swant (Special Entertainment)
Frankie Latina
Barbara Miner
2007
Established
Gary John Gresl
Mark Klassen
Dan Ollman
Emerging
Annie Killelea
Faythe Levine
Colin Matthes
Kevin J. Miyazaki
2006
Established
Santiago Cucullu
Scott Reeder
Chris Smith
Emerging
donebestdone
Dan Klopp
Christopher Niver
Marc Tasman
2005
Established
Nicolas Lampert
Fred Stonehouse
Jason S. Yi
Emerging
Juan Juarez
Michael K. Julian
Mat Rappaport
Steve Wetzel
2004
Established
Terese Agnew
Cecelia Condit
Jennifer Montgomery
Emerging
William Andersen
James Barany
Steven Burnham
Frankie Martin
2003
Established
Dick Blau
Michael Howard
Mark Mulhern
Emerging
Paul Amitai
Peter Barrickman
Mark Escribano
Liz Smith
For information on past recipients, click here.