Mary L. Nohl Fund Fellowships for Individual Artists
Five Artists Recognized in Seventeenth Cycle
Five recipients of the Greater Milwaukee Foundation's Mary L. Nohl Fund Fellowships for Individual Artists have been selected from a field of 159 applicants in the seventeenth annual competition. In addition to receiving an award, the Nohl Fellows participate in an exhibition at the Haggerty Museum of Art that opens in early June 2020. An exhibition catalogue will be published and disseminated nationally.
Finalists in the Established Artist category included David Niec, Santiago Cucullu, Valaria Tatera, David Najib Kasir, and Matthew Lee.
Finalists in the Emerging artist category included Grant Gill, Nykoli Koslow, Madeline Grace Martin, Daniel McCullough, Rosy Petri, Brennen Steines, and Michael Ware.
Headshots, images of the artists' work, and image credits available at:
https://www.dropbox.com/sh/yfuwdelqgyc76sb/AAALwFMvbskpHlzYafoo53bha
Funded by the Greater Milwaukee Foundation's Mary L. Nohl Fund and administered by the Bradley Family Foundation, the Mary L. Nohl Fund Fellowships for Individual Artists provide unrestricted funds for artists to create new work or complete work in progress. The program is open to practicing artists residing in the four-county area (Milwaukee, Waukesha, Ozaukee, and Washington counties). The Mary L. Nohl Fund also supports a Suitcase Fund for exporting work by local artists beyond the four-county area.
Artist Mary L. Nohl of Fox Point, Wisconsin, died in December 2001 at the age of 87. She left a $9.6 million bequest to the Greater Milwaukee Foundation. Her fund supports local visual arts and education programs, keeping her passion for the visual arts alive in the community.
The panel of jurors included Dean Daderko, Curator at the Contemporary Arts Museum Houston; Janet Dees, Steven and Lisa Munster Tananbaum Curator of Modern and Contemporary Art at the Mary & Leigh Block Museum of Art, Northwestern University; and Jessica S. Hong, Associate Curator of Global Contemporary Art at the Hood Museum of Art, Dartmouth. The panelists were in Milwaukee November 7-9, reviewing work samples and artists' statements and visiting the studios of the seven finalists in the Established Artist category.
About the Fellows
Established Artists
CECELIA CONDIT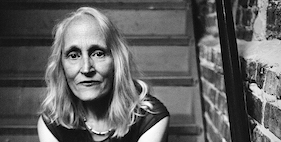 Since 1981, Cecelia Condit has created videos and heroines whose lives swing between beauty and the grotesque, innocence and cruelty, strength and fragility. Her work puts a subversive spin on the traditional mythology of women in film and the psychology of sexuality and violence. Exploring the dark side of female subjectivity, her "feminist fairy tales" focus on friendships between women, mothers, memories and the natural world. Her most recent work, We Were Hardly More Than Children, is an epic tale of a friend's traumatic abortion; a deep hurt not remembered, but poignantly visible in her paintings.
Condit has received awards from the Guggenheim Foundation, American Film Institute, National Endowment for the Arts, Mary L. Nohl Foundation, Wisconsin Arts Council and the National Media Award from the Retirement Research Foundation. Her work shows internationally and is represented in collections including the Museum of Modern Art in NYC, the Walker Art Center in Minneapolis and the Centre Georges Pompidou in France. She studied at the Pennsylvania Academy of Fine Arts. In addition, Condit received a B.F.A. in sculpture from the Philadelphia College of Art and M.F.A. from Tyler School of Art of Temple University in photography. At present, she is professor emerita in the Department of Film, Video, Animation and New Genres at the University of Wisconsin-Milwaukee. Formerly, she was a professor and director of the graduate program in film.
https://www.ceceliacondit.com/
RAS 'AMMAR NSOROMA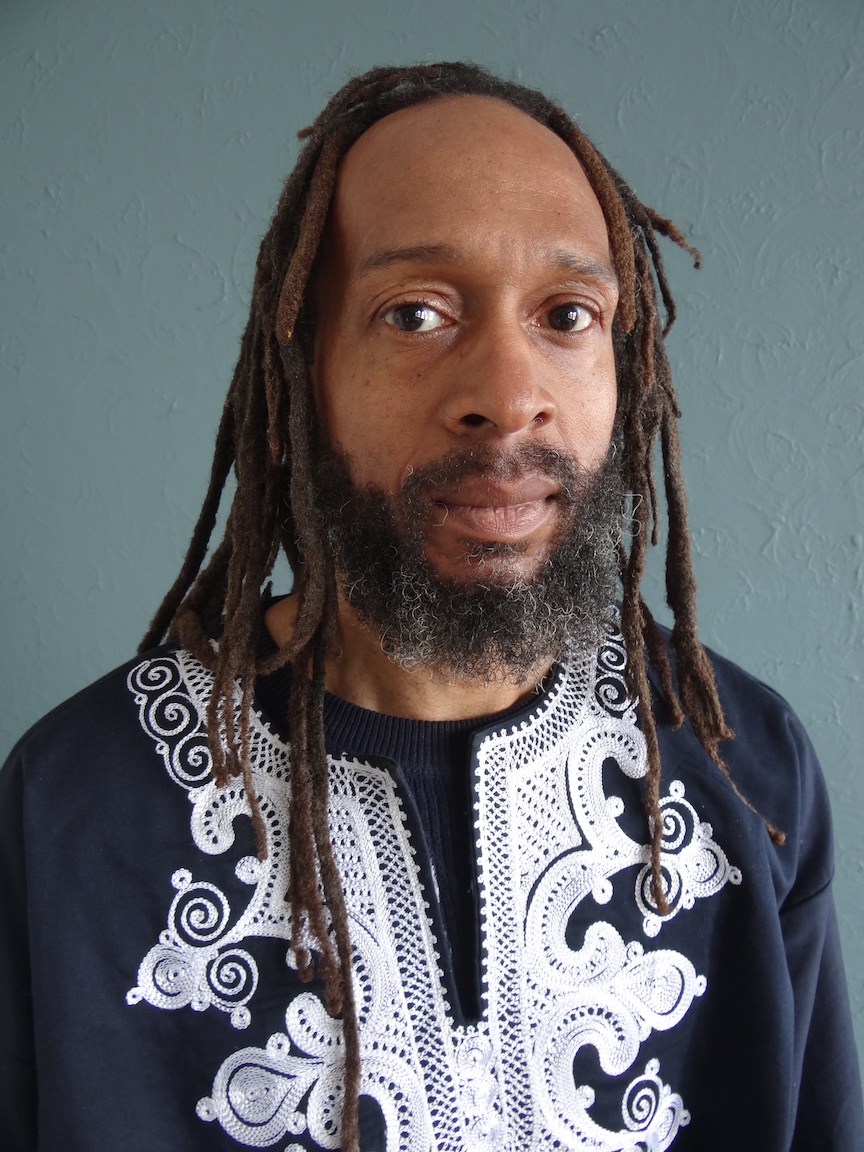 Ras 'Ammar Nsoroma is a muralist, portraitist, and mixed media painter. His work centers around the spiritual, cultural, and political consciousness of the African Diaspora. Nsoroma has worked as an artist for 35 years. He studied at the Milwaukee Institute of Art & Design and the School of the Art Institute of Chicago. His current body of work explores the world of the Orisha, African deities of the pantheon of the Yoruba people.
https://www.facebook.com/ammarnsoromaart/
Emerging Artists
VAUGHAN LARSEN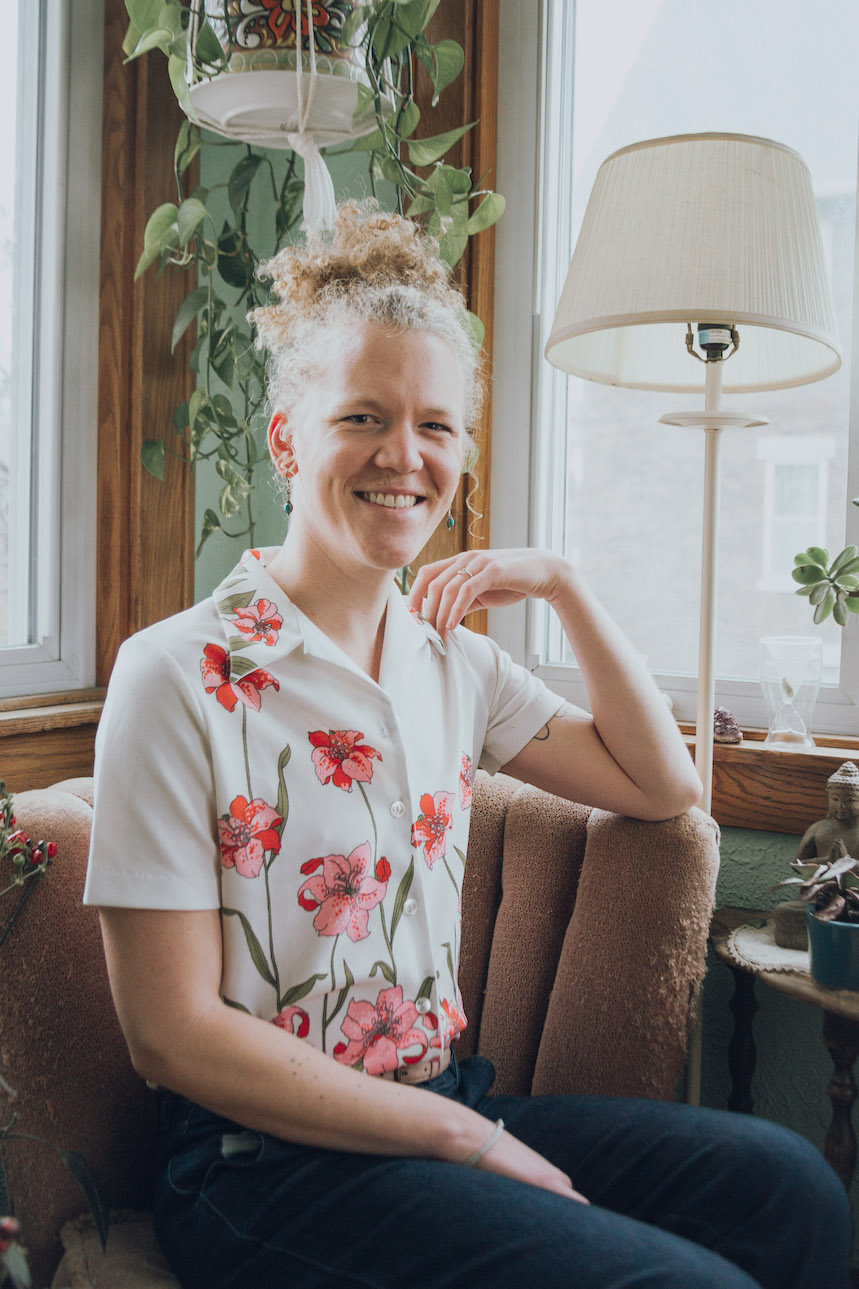 Vaughan Larsen received their BFA with an emphasis in Photography and Imaging from the University of Wisconsin-Milwaukee in May 2019. Their practice currently explores issues of identity and relationships at the intersection of queer culture. In 2019, Larsen has earned local, national, and international honors: After School Special's Grilled Cheese Grant; the SPE Student Award for Innovations in Imaging (to attend the annual conference of the Society of Photographic Education); first place in the Creative Bursary LGBTQ+ Stories by Getty Images; and first prize in the Unique competition of the Amsterdam Pride Photo Award. Larsen's work has been written about in publications such as Urban Milwaukee, Phemme Zine, Photo Emphasis, and Humble Arts Foundation.
https://www.vaughanlarsen.com/
LaNia SPROLES


LaNia Sproles grew up in Milwaukee, Wisconsin and graduated with a BFA from the Milwaukee Institute of Art & Design. She devotes most of her time to conducting research on the philosophies of self-perception, queer and feminist theories, and inherent racial dogmas, while also examining the contemporary works of Kara Walker, Wangechi Mutu, and many other Black artists. The combination of printmaking and drawing inspires her to challenge these concepts and to push beyond the traditional expectations of both the figure and printmaking itself. Through collage and assemblage she strives to create work that is honest in its vulnerability and that pays homage to imagery free from the barriers of social constructs.
https://www.laniasproles.com/
NATASHA WOODS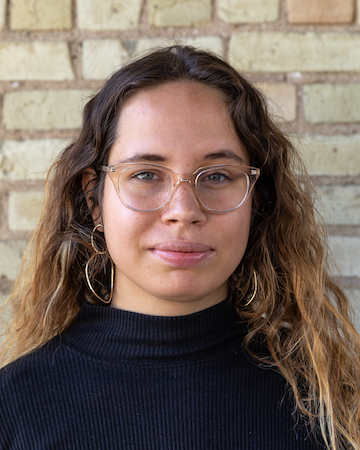 Filmmaker Natasha Woods was born in Iowa in 1992. She received her BFA in Film, Video, Animation, and New Genres from the University of Wisconsin-Milwaukee in 2018. At the forefront of her practice is an interest in a hybrid approach to storytelling: she investigates microhistories and counternarratives through manipulation of artifacts and archives. Woods attempts to reposition canonical histories through a feminist lens, posing questions that grapple with how the subject senses comfort and belonging. Her film Confrontations has recently screened at the Milwaukee Film Festival and is currently on tour with Sequence01, a traveling program curated by the underground microcinema, No Evil Eye Cinema.
https://natashawoods.com/
For more than a century, the Greater Milwaukee Foundation has helped individuals, families and organizations realize their philanthropic goals and make a difference in the community, during their lifetimes and for future generations. The Foundation consists of more than 1,300 individual charitable funds, each created by donors to serve the charitable causes of their choice. The Foundation also deploys both human and financial resources to address the most critical needs of the community and ensure the vitality of the region. Established in 1915, the Foundation was one of the first community foundations in the world and is now among the largest.
Past Fellows
2018
Established
Chris Cornelius
Keith Nelson
Emerging
Nazlı Dinçel
Makeal Flammini
Rosemary Ollison
2017
Established
Tom Berenz
Lois Bielefeld
Emerging
Sara Caron
Sky Hopina
Ariana Vaeth
2016
Established
Jesse McClean
Joseph Mougel
Emerging
Rose Curley
Robin Jebavy
Brook Thiele
2015
Established
Jon Horvath
Frankie Latina
Emerging
Ben Balcom
Zach Hill
Maggie Sasso
2014
Established
Anne Kingsbury
Shana McCaw & Brent Budsberg
John Riepenhoff
Emerging
Emily Belknap
Jenna Knapp
Erik Ljung
Kyle Seis
2013
Established
Ray Chi
Sheila Held
Special Entertainment (Andrew Swant & Bobby Ciraldo)
Emerging
Cris Siqueira
Tim Stoelting
Eddie Villanueva
Josh Weissbach
2012
Established
Danielle Beverly
Faythe Levine
Colin Matthes
Emerging
Lois Bielefeld
Tyanna J. Buie
Brad Fiore
Brad Kjelland
2011
Established
Nicholas Lampert
Brad Lichtenstein
Sonja Thomsen
Emerging
American Fantasy Classics
Richard Galling
Hans Gindlesberger
Sarah Luther
2010
Established
Brent Coughenour
Paul Druecke
Waldek Dynerman
Emerging
Sarah Buccheri
Neil Gravander
Ashley Morgan
Chris Thompson
2009
Established
Peter Barrickman
Harvey Opgenorth
Emerging
Kim Miller
John Riepenhoff
2008
Established
Brent Budsberg & Shana McCaw
Xav Leplae
Iverson White
Emerging
Tate Bunker
Bobby Ciraldo & Andrew Swant (Special Entertainment)
Frankie Latina
Barbara Miner
2007
Established
Gary John Gresl
Mark Klassen
Dan Ollman
Emerging
Annie Killelea
Faythe Levine
Colin Matthes
Kevin J. Miyazaki
2006
Established
Santiago Cucullu
Scott Reeder
Chris Smith
Emerging
donebestdone
Dan Klopp
Christopher Niver
Marc Tasman
2005
Established
Nicolas Lampert
Fred Stonehouse
Jason S. Yi
Emerging
Juan Juarez
Michael K. Julian
Mat Rappaport
Steve Wetzel
2004
Established
Terese Agnew
Cecelia Condit
Jennifer Montgomery
Emerging
William Andersen
James Barany
Steven Burnham
Frankie Martin
2003
Established
Dick Blau
Michael Howard
Mark Mulhern
Emerging
Paul Amitai
Peter Barrickman
Mark Escribano
Liz Smith
For information on past recipients, click here.