Urban Forestry at the Lynden Sculpture Garden
In 2021, Lynden was awarded a Wisconsin Department of Natural Resources (DNR) Urban Forestry grant to generate a tree inventory and to create a corresponding management plan for our natural areas and arboricultural collections. During the grant period, Lynden's land staff worked with consultant Matt Smith, Research and Conservation Director at Riveredge Nature Center, to assess the property and write a land management plan that reflected the ecological needs and aesthetic and educational goals of the sculpture garden. This is the first land plan at Lynden that integrates care for the unique and historic collection of arboricultural specimens and the natural areas within the property.
There are many unique challenges in managing the land and trees at Lynden. We believe that aspects of the forest (spring ephemerals and large heritage trees) and savanna (large heritage white oaks) which persist today are remnants of vegetation that predate the Bradley's purchase of the land in the late 1920s. At that time, the parcel was predominantly flat farm land with already existing oak trees. Over time, landscape designers and staff created the pond system and topography that can be seen today. In addition to altering the land, these designs changed the vegetation drastically. Large, mature trees were dug up from neighboring areas by hand and brought in on flat beds and planted at Lynden. Dynamite was used to "dig" the holes for the transplanted trees. The largest elms on the grounds today were planted in this manner and represent a fraction of the large elms that covered the property prior to the arrival of Dutch elm disease. Between 1962 and 1978, approximately fifty monumental sculptures were sited across the grounds. The balance of manufactured landscape and naturally occurring vegetation, of art and nature, and adaptation to climate change are the key considerations for managing Lynden's landscape today.
Inventory and Methods
This inventory was funded through the Wisconsin DNR Urban Forestry Grant and follows the minimum guidelines for a tree inventory as defined by WDNR. The inventory was completed between spring 2021 and spring 2022, and was developed and conducted in a collaborative effort between Lynden staff; Matt Smith, the consultant on this project and Conservation and Research Director of Riveredge Nature Center; and Professor Neal O'Reilly and his students from the University of Wisconsin-Milwaukee Conservation and Environmental Science capstone program. A geodatabase was created in ArcGIS to be used in the field with the ArcCollector, Survey123, and ArcGIS Field Maps. We hope that this collection system can be shared in the future with other entities that wish to survey their trees. The geodatabase created contains many fields for data collection, including:
• Tree ID number
• Species
• Cultivar
• Woody plant
• DBH
• Tree height
• Canopy radius
• Crown health
• Competition
• Canopy shape
• Major limb decline
• Pruning needed
• Included bark
• Root crown investigation
• Mulch needed
• Injury description
• Removal needed
• Replacement prescription
• Disease issues
• Disease description
• Improvements required
• Management needed
• Mortality
• Overall assessment
• Maintenance history
• Tree history
• Planted with DNR funds
• Year planted
• Global ID
Here is a map of the results: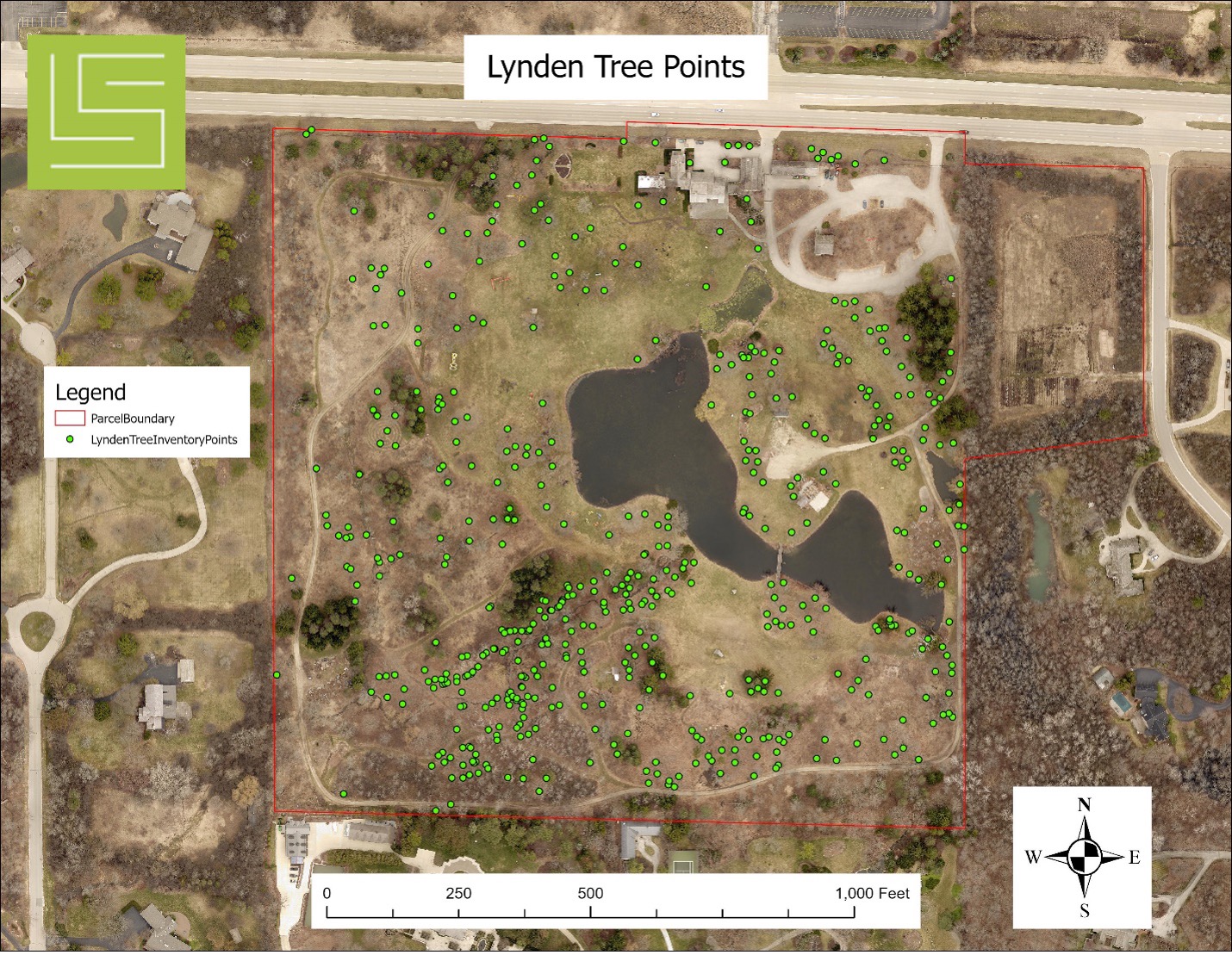 Urban Forestry Resources
This document was funded in part by an urban forestry grant from the State of Wisconsin Department of Natural Resources Forestry Program as authorized under s. 23.097, Wis. Stat.