Intersite: Geopoetics of the Constructed Landscape and Beyond with Jennifer Scappettone
Tuesday, June 6 - Friday, June 9, 2017, 1-4 pm daily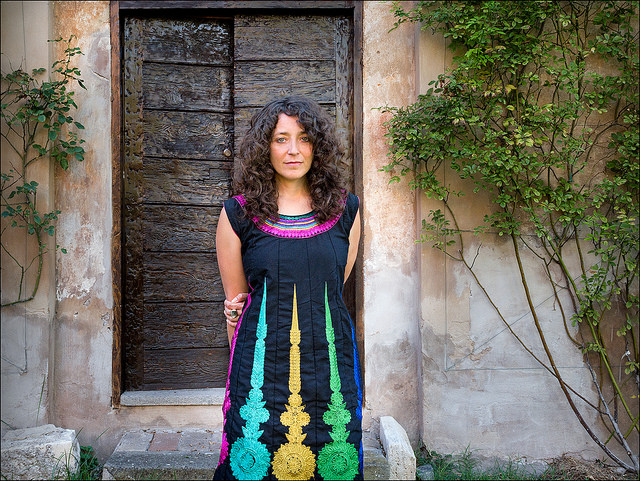 Photo credit: Dino Ignani
Presented in collaboration with Woodland Pattern Book Center.
Fee: $200/$185 for members of Lynden or Woodland Pattern (one discount only).
Registration: Space is limited; advance registration required. Register online or by phone 414-446-8794.
The Lynden Sculpture Garden and Woodland Pattern present Intersite: Geopoetics of the Constructed Landscape and Beyond, a workshop with writer-in-residence Jennifer Scappettone. The workshop is preceded by a reading by Scappettone at Woodland Pattern on Sunday, June 4 at 2 pm, and will culminate in a reading by participants, followed by a reception, at Lynden on Friday, June 9 at 6 pm.
In this workshop, we will explore a range of tactics for inhabiting and articulating the present moment geologically. How can we see through the garden's beauty into the discordant histories embedded in the landscape of our convergence, for example, with its origins in the manufacturing concerns of the Allen-Bradley Company, and the designs of renowned golf course architects—their vision of an English country park echoing a client's memories of Kansas City municipal grounds—slowly amassing the signatures of canonical artists, and metamorphosing in the 21st century through ecosensitive reconstruction? How do we see through the garden into the city beyond? Who lived here long before Milwaukee and its suburbs existed, and what glacial histories do its soils and rocks have to tell? Students will be asked either to respond to the site of the Lynden Sculpture Garden itself or to bring remnants of a site they wish to write about for the week—geological strata both natural and unnatural, as many artifacts as possible. Bring bits of history along that you are prepared to transform or destroy. And scissors.
About Jennifer Scappettone
Jennifer Scappettone works at the crossroads of writing, translation, and scholarly research, on the page and off. She is the author of the hybrid-genre verse books From Dame Quickly (Litmus, 2009) and The Republic of Exit 43: Outtakes & Scores from an Archaeology and Pop-Up Opera of the Corporate Dump (just out from Atelos Press), and of the scholarly study Killing the Moonlight: Modernism in Venice (Columbia University Press, 2014). Her translations from the Italian of the polyglot poet and musicologist Amelia Rosselli were collected in the award-winning book Locomotrix: Selected Poetry and Prose of Amelia Rosselli. She founded, and curates, PennSound Italiana, a new sector of the audiovisual archive based at the University of Pennsylvania devoted to experimental Italian poetry. Her installation pieces were exhibited most recently at Una Vetrina Gallery in Rome and WUHO Gallery in Los Angeles, and she has collaborated on site-specific performance works with a wide spectrum of musicians, architects, code artists, and dancers, at locations ranging from the tract of Trajan's aqueduct beneath the American Academy in Rome to Fresh Kills Landfill. Scappettone is an associate professor of various subjects—including, most recently, ecopoetics, urban utopias and dystopias, and Babel—at the University of Chicago.
Dates at Lynden: June 6-June 9
Tuesday, June 6 - 1-4 pm
Wednesday, June 7 - 1-4 pm
Thursday, June 8 - 1-4 pm
Friday, June 9 - 1-4 pm (with a reading and reception at 6 pm)
Related Events
Sunday, June 4 - 2 pm
Reading: Jennifer Scappettone
$8 General | $7 Students & Seniors | $6 WPBC Members
FREE for participants in Intersite: Geopoetics of the Constructed Landscape and Beyond
This event takes place at Woodland Pattern Book Center, 720 E. Locust St. Milwaukee, WI 53212
Friday, June 9 - 6 pm
Workshop Reading & Celebration
Free
Participants in the workshop will offer a reading of work produced during the week followed by a reception.
This event takes place at the Lynden Sculpture Garden.
Both events are open to the public.